Swimming Lakes in Carinthia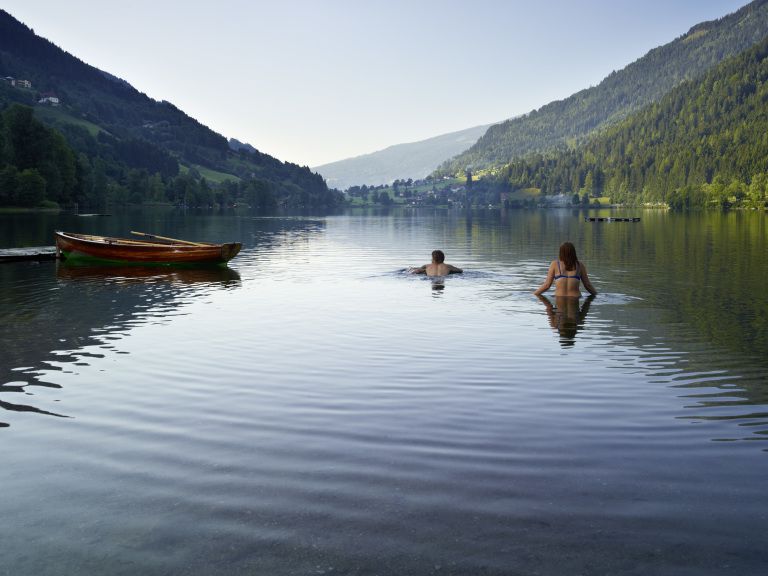 Carintiha is know to be the land of 1000 lakes.
And what would be better than to jump into a lake to cool down afer a day of hiking in the Nockberge Region.
Carinthia is known for its countless lakes. They are among the warmest in the entire Alpine region and therefore perfect for swimming For sure you can find the right lake for your taste. Whether you want to swim, do watersports, dive, fish or bath in the sun.
Whithin 15 to 20 minutes by car you can reach 3 different lakes from our hotel. On a warm summer day what could be beter thant refresching yourself after hiking in a cool lake?
Lake of Millstatt
The lake of Millstatt is the deepest lake in whole Carinthia. In summer it can reach up to 27 degrees Celsius. It offers varoius possibilities, wheater it is swimming, water sports, stand up paddeling or you can enjoy a boat trip.
During a stay with us, in addition to the free Kärnten Card, you also get free admission to the Strandbad Sittlinger on Lake Millstätter See. The Sittlinger, as they all call it, is perfect for swimming, lying in the sun, or wakeboarding and waterskiing. Very close to the Sittlinger also starts the beautiful walking path.
Brennsee
There are also smaller lakes in our area, like the Brennsee in Feld am See. There are also really nice for swimming. If you are interestes in watersports, like saukung, surfing, diving or stand up paddeling, the sport school Krainer is looking forward to your visit.
Afritzsee
The Afritzsee is a really calm lake. It is popular aroung fishermen or to stroll around. The shore is almost unspoilt and there is a beautiful walikng path around the lake.
Enjoy you lake experinece!
With the Carintiha Card, which is including in your stay during summer time, you recieve free entrance into several pools in Carinthia.
And there are also two thermal baths in Bad Kleinkirchheim.